---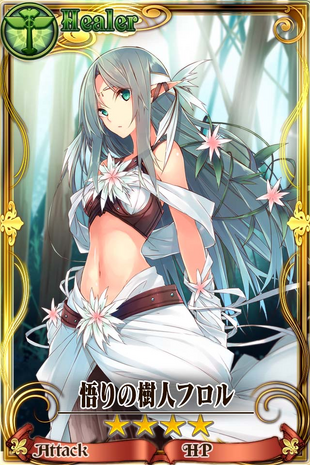 Insightful Ent Flor
悟りの樹人フロル
Rarity
4★
Cost
14
Class
Cleric
Weapon
Holy
Growth Rate
Average (750 Base EXP)
 
Attack
HP
Level 1
1700
1600
Level 50
5480
4100
Level 70
7280
5900
Affiliation
Soul Island
Job
Healer
Skills
Skill
Worldly Gospel (Mana: 2)
"Mine and ours."
Restores a moderate amount of HP to all allies and temporarily reduce damage taken.


Restores health by 85% of Attack Power, and reduces damage taken by 3% of the receiver's attack power for 10 seconds.
Abilities
Ability
Mana Training
Start battles with one mana.
World Assimilation
As the assimilation progresses, her power spreads further. Normal healing restores from a grater range. Also, when there are four or more archers/clerics on the battlefield, attack power and movement speed rise for all archers/clerics. Flor's unique ability.


Normal healing's range increases by 2 squares. Attack power increases by 5% for all archers/clerics when there are 4 or more.
Chain Ability
Will of the Forest - Cost: 3
Start battles with one mana.
Profile
| | |
| --- | --- |
| Profile | A forest sprite of the Great Tree tribe. She has begun assimilating with the forest, and is closer to a spirit than an actual person. This allows her to draw power from the forest's will, but she still has her sense of self, and is even favorable towards humans. |
| Voice | Kotori Koiwai |
| Illustrator | Rein Kuwashima |
Sounds
Voice Lines
Sample

Unknown
Obtain