---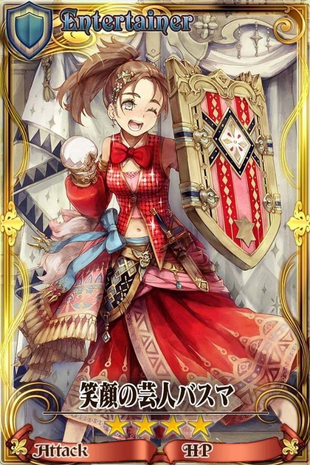 Smile-Bringing Entertainer Basma
笑顔の芸人バスマ
Rarity
4★
Cost
13
Class
Knight
Weapon
Blade
Growth Rate
Fast (500 Base EXP)
 
Attack
HP
Level 1
1750
2100
Level 50
5100
5550
Level 70
6900
7350
Affiliation
Lake of Sand
Job
Entertainer
Skills
Skill
Funny Blizzard (Mana: 2)
"I'll stop with the puns! Just kidding!"
Freeze everyone on the battlefield.
Abilities
Ability
Comical Combination
The fascinating dynamic duo... is it time for a skit? Attack power and movement speed rise, and damage taken falls when on the battlefield with an ally who has this ability.


Attack power increases by 12%, movement speed increases by 30%, and damage taken decreases by 5%.

Natural Ditz - Requires: Endless Training
Her genius ditziness bewilders all who hear her thoughts. Normal attacks sometimes inflict slow. Basma's unique ability.


5% chance.
Chain Ability
Ditzy Moment - Cost: 3
Normal attacks sometimes inflict freeze.


3% chance.
Profile
Profile

A barnstormer in the Lake of Sand. Originally a naive and naturally airheaded girl, she tried to comfort

Ibtisam

when she was upset and ended up unintentionally making her laugh with her ditziness. As a result, she formed a comedy duo with her friend in order to make others smile. Their routine is that she would do or say something stupid, and Ibtisam would hit her hard for it. Thanks to her strong resilience after doing this over and over, their comedy routine is popular with all audiences.

Voice
Rie Murakawa
Illustrator
Nemu
Sounds
Voice Lines
Sample

Unknown
Obtain